Font Vanne Bittilai Nepali Sundar Fonts laaI Samjhinchhu Ma. Timilai Sundar
Nepali Stylish Fonts Download
Le Lekhera Letter lekhma Man Laagchha. Kayau sapana chhan Photo ma
Nepali Stylish Fonts
le lekhne, Rahar chha.
Free Nepali fonts Download
Garnako Laagi Tapalile Yas Articles Laai Last Samma Padhnu Parne Hunchha. So Yadi Tapai Aaphno Mobile Phone ko laagi Bishal
Nepali font free Download
Garna Saknu Hunechha.
Nepali Stylish fonts Download
Hami Nepali Hau, Nepal Ma kunai Pani internet tarikale Online Kam Ma kam chha. Jasma Create Blog Nepal ma aba kaa dinma dhamadham Vairakheka chhan. Jaba ki Hamilai Kunai Pani Apps Ma Nepali Fonts Diyako Hudaina. Jasko karanle Hamilaai Garho Hunchha ki Nepali Stylish fonts napaauda. so Guys Aba tapaile Free Nepali Stylish Fonts Download Garna Saknu Hunechha. Kunai Pani Photo Editor, Text Editor App Like: Picart, Phonto, Pixellab Jasta Apps haruma Tapaile Nepali fonts Use Garna saknu Hunechha. So Tala diyaka Sabai Kura Dhyan diyara Padhnu Hos Tapailaai Dherai Helpful Hunechha.
Yadi Tapai Kunai Facebook Group haruko laagi Attitude Status Nepali Khojdai Hununchha Vane tapailaai 100% Best status Milnechhan.
Download & Install Free Nepali Stylish Fonts
Yadi Tapai Nepali fonts laai Download Garera Aaphno Apps ma Add Garna chahanu Hunchha vane Tapailaai Yas Articles maa Sabai Kura Diyako Chha. Aba tapaile 99 Free Nepali Stylish Fonts Download & Install Garna Saknu Hunechha. aaphno Mobileko Browser maa gayara Tapaile Nepali Stylish Fonts Download Salyan Tech Search Garnu Hunechha, Ani Tapai Yaha diyaka Fonts laai Download Garnu Hunechha.
How to Install Nepali font?
Download the Selected Nepali font.
Extract Zipped Nepali font Using RAR Software.
Go to Control Panel, or Go to File Manager and open the "fonts" folder.
Copy the fonts from the Extracted folder and Paste it into the "Fonts" Folder.
Best Nepali Fonts for Android 2021
Sathiharu Yadi Nepali font aaphno android ma chhahanu Hunchha vane, one trick chha jun tapaile sajilai use garna saknu Hunchh. nepali fonts lai kunai app maa laijda ali hard hunale aaja hamile, sidhari app bata nai Nepali Fonts for Android ko lagi vanera Yo tips liyara aayaka chhau.
App Name: Kinemaster
Sathiharu Kinemaster ek video editing App Ho. Yasma Tapaile video editing matra nayara Imge ma font dina saknu Hunchh. Jasma Nepali Stylish fonts Download Garna SaknU hunchha.
Jun Fonts Stylish Rahane chhan.
Yi Fonts laai tapaile Kinemaster ma matra use garna saknu Hunchha.
Easy of one-click maa Download hunechhan.
New fonts update maa aairakhne chhn.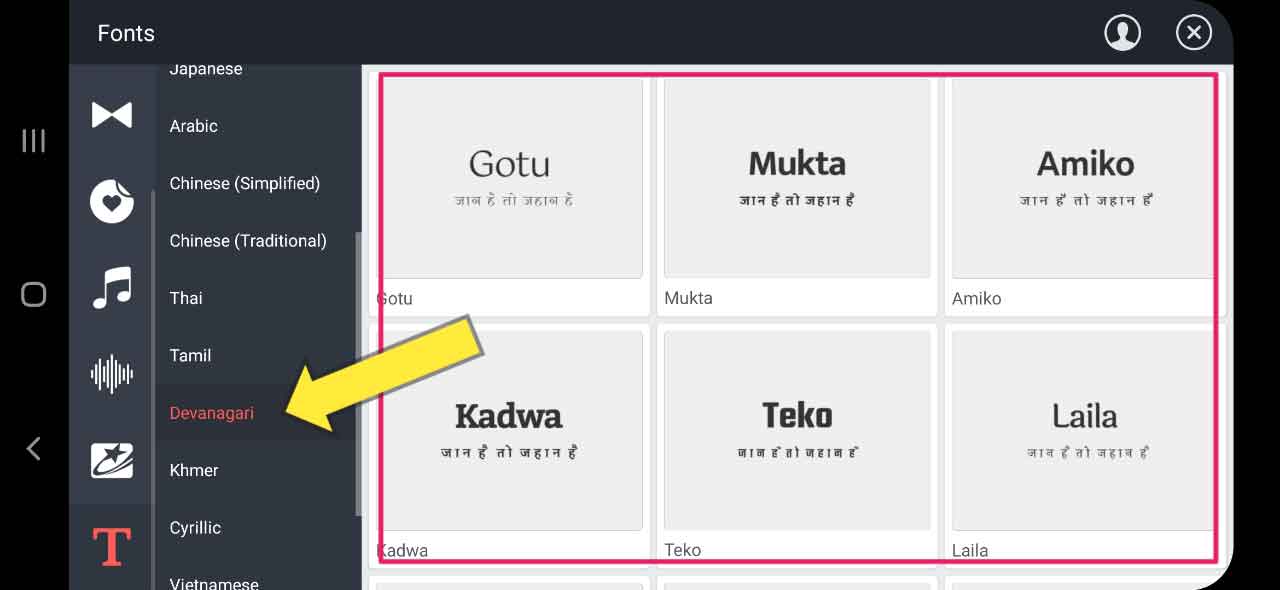 tala diyaka fonts laai one click ma download garna saknu hunchha. Download garisake si kun app ma use garna chahanu hunchha tehi app ma gayara yaslai adjust garna saknu Hunechha.
Do You Want More Free Nepali fonts Please comment on Us?
How to Use Nepali Stylish Fonts?
Android ko lagi font download garnuhosa, ani tapaile yaha, font laai extract garera use garna saknuhuncha. Mathi diyaka font simple download garera Tapaiko file maa aauchha, tyasalai extract garera teslai app ko font maa add garna saknu hunchha. yasari tapaile use nepali stylish fonts ko paragraph read garera bujhnu vayo hola.
Use Nepali Fonts in android
tala diyako Screenshot herera thaha pauna saknu Hunchha ki kasari fonts laai add garne vanera. so guys yadi yasm kunai dought vaya sidhai hamilai contact garna saknu Hunchha.
1.